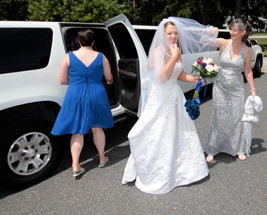 For stretch limo, airport shuttle, black cab, and town car services you can trust in and around Austin, look no further than Endeavor Limousines & Chauffeured Services of Austin. Our chauffeurs for hire are fully licensed, bonded, and insured, and we're a proud member of the National Limousine Association. We make punctuality and reasonable rates our top priorities, without ever sacrificing the quality of our chauffeur services, so you get the first-class limo and town car services you deserve. From taxis service home after a special night out to executive car service before a big business trip, we've got your transportation needs covered. Call or e-mail us today to get a free estimate for your trip! 
Airport Shuttle Service
Top-Notch Limo Services
Punctual Pickups and Drop-Offs
Free Estimates
50 Years' Transportation Experience 
We're based in Austin, and we'll take you wherever you need to go in the state of Texas. Call us for limo or town car service to Round Rock, Cedar Park, Lakeway, Leander, Georgetown, Hutto, Bastrop, Manor, Pflugerville, or another location. We serve both Austin-Bergstrom International Airport and Austin Executive Airport for your convenience, and curbside or meet-and-greet service is available for your airport shuttle. We want to be your only choice for limo and taxis service in the region, whether you need a stretch limo for a special occasion or a black taxi to a weekly appointment in town.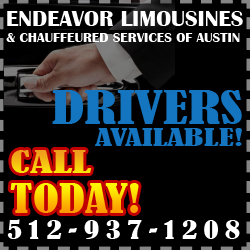 Endeavor Limousines & Chauffeured Services of Austin cares deeply about customer satisfaction. We know that your schedule and your budget are key to your satisfaction when working with chauffeurs for hire—you want to get where you're going on time, and you want to avoid spending an arm and a leg to do so. We can make both of those things happen, offering punctual and reasonably priced town car and limo services. As an added bonus, you'll ride in spotless and spacious vehicles driven by knowledgeable, uniformed drivers who have your safety and security at heart. We are here to take care of you when you have transportation needs in Austin or across the state!
To learn more about booking town car services, limousine services, or airport shuttle services from Endeavor Limousines & Chauffeured Services of Austin, call us today! We'll answer any questions you have and schedule your trip in the vehicle of your choice. Trust our chauffeur services to meet your needs 100%.